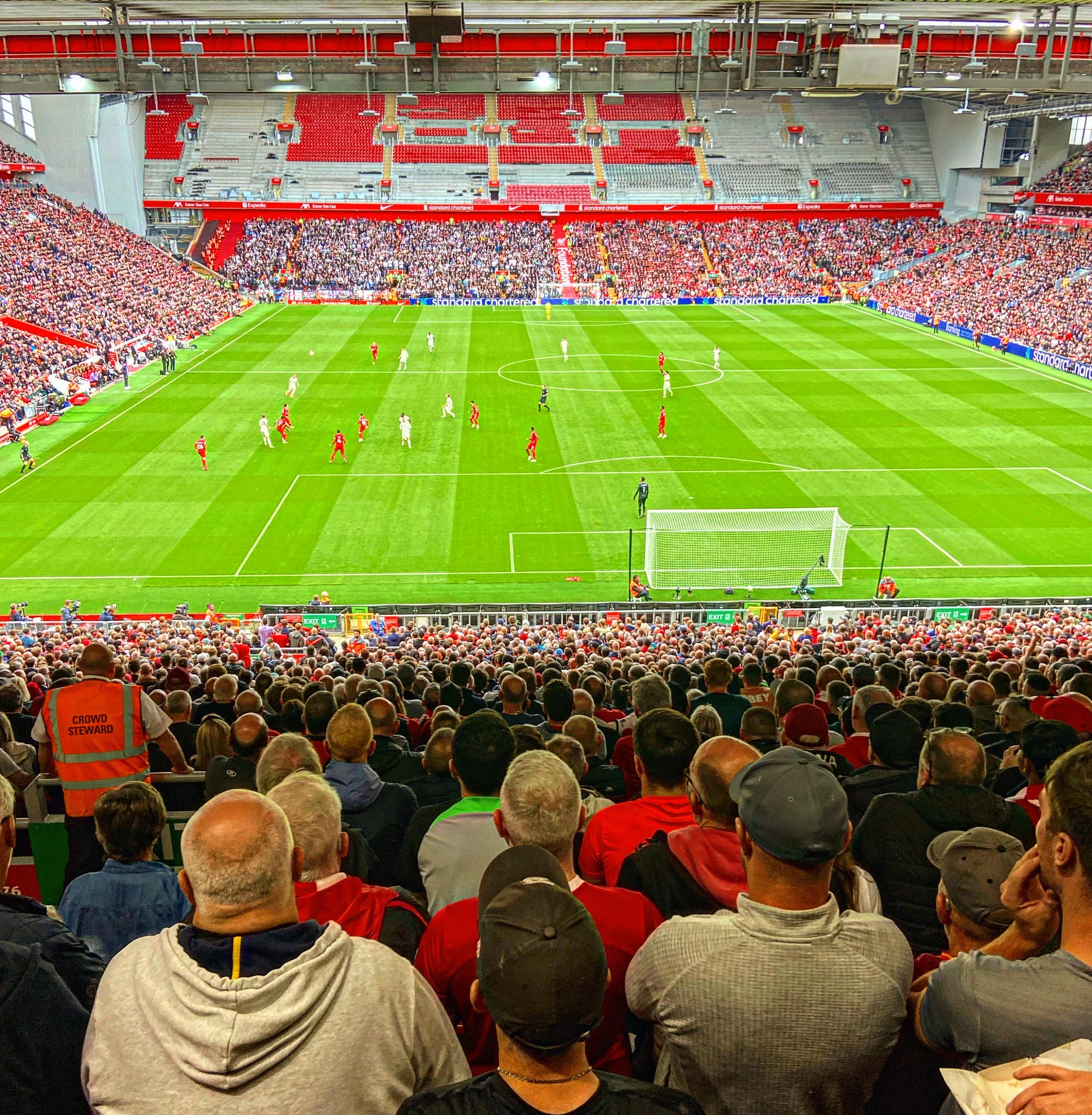 The Anfield Atmosphere: Myths, Moaners And Divisive Debate
By Gareth Roberts
WELL, we've gone early this year, haven't we? I doubt a season has ever gone by when there hasn't been some sort of discussion among Liverpool supporters regarding the Anfield atmosphere – some of it healthy, some of it less so.
I can remember reading about the support in the ground in Through The Wind And Rain fanzine in the 1990s and I can remember writing about it myself in Well Red magazine in 2011.
It's been discussed ad nauseam on fan-made videos and podcasts, in pubs, online and, of course, on social media. In this world nothing can be said to be certain, except death and taxes and debate about the Anfield atmosphere.
This season is no different then, with this post on Twitter getting some traction following the West Ham game on Sunday, only Liverpool's third home game of the 2023/24 season following the opener versus Bournemouth and the 3-0 win over Aston Villa at the start of the month.
First, I'm always glad that people care; that we care. At the risk of being accused of Scouse exceptionalism, I don't always get that impression about other football clubs and their supporters. Some, yes. All, no.
Outside our bubble some say we're soppy romantics banging on about the twelfth man, Bill Shankly, the roar of The Kop and sucking footballs into the back of the net.
They say we overstate the importance of our club, of the game even. I say, you don't get it, and we don't care.
We should want the Anfield atmosphere to be the very best it can be. We've all got our memories of amazing days and nights in that ground, when the noise was deafening, when The Kop turned to sponge under our feet, when the hairs stood on end on your arms, when players and managers were forced to admit they had never seen a greater show of red strength.
For some, those memories will stretch back a lifetime through all the hits: Inter Milan in 1965, St Etienne in 1977, Barcelona in 2001, Chelsea in 2005 and 2007, Dortmund in 2016, Barcelona in 2019. I could name more, you could name more. And I wouldn't mind betting we'd both be naming more nights in Europe: Roma, Juventus, Olympiakos…take your pick.
Embed from Getty Images
What else jumps out? Games against Everton, Manchester United, Manchester City? The match when we belted out "We're gonna win the league" and meant every word?
Clearly, Anfield can turn it on and big atmospheres for big occasions aren't dead. The boring churn of articles arguing otherwise is largely just tiresome tattle from banter bellends casting a net for clicks. Oh, another poll on SportBible about the atmosphere being a "myth" is it? Yawn…
I don't know about you, but I put greater faith in first the lived experience of both our ground and other grounds, at home and abroad. I know what I have experienced here and there. We're alright. We haven't made it up. Those nights were real and up there with anything else.
Then there is the long list of people in football who have referenced Anfield and its influence. People in football not affiliated to Liverpool whose opinion there is no good reason to ignore.
Alex Fergsuon called it "electric". Pep Guardiola "a bugger of a ground". Thierry Henry said "there is nothing like playing at Liverpool".
Mikel Arteta, who made Arsenal players train to You'll Never Walk Alone in preparation for a trip to Liverpool, said he experienced "bajar" at Anfield: "The game was going well and then suddenly I could only see red shirts flying around. The game is passing all over me and I cannot react.
"People said 'what is he doing?' and I cannot do it, I cannot do it emotionally, physically I cannot cope, everything goes too fast. I only had that feeling in my career once and it was at Anfield."
Villarreal's Etienne Capoue called it "hell", Johann Cruyff said it gave him "goosebumps", Carlo Ancelotti said it was "special", Jose Mourinho "magnificent" and John Terry said "the hairs on my arms were standing up".
Patrick Vieira said: "Liverpool for me is the best atmosphere that I ever experienced in my life."
Like the list of special nights, there are many, many more quotes of a similar ilk that could be referenced.
So that's that covered then, it's special, no matter what a Manc with a camera says.
Embed from Getty Images
Which brings me back to the here and now and the debate referencing an issue post West Ham. I'll start with another quote regarding Anfield atmosphere, this one less effusive.
It's from childhood Liverpool fan and Michael Owen idoliser, Kevin De Bruyne. He said: "I think for Liverpool – obviously it's always a big game between us – but I feel there's a difference when it's Champions League or a night game, than when you play a 12 o'clock kick-off."
He's onto something here.
I don't think the atmospheres at Anfield have been especially bad this season so far. Certainly not "fucking terrible". But it's all a matter of opinion, isn't it?
As far as I'm aware, there is no true measure of "atmosphere", good, bad or famous. Is there a ground anywhere that is bouncing for 90 minutes-plus in every stand for every game every week? I doubt it.
Having climbed the steps at Anfield for more than three decades I think you can point to factors that are likely to influence the vibe.
Embed from Getty Images
First, I'd suggest an unfinished stand isn't helping right now. Remember the noise from the biggest crowd at Anfield since 1977 when the new Main Stand opened against Leicester City in 2016?
I think we'll see something similar when the Anfield Road is finished. In the meantime, well it's a bit weird.
Second, context matters, and that's what De Bruyne is referencing.
In football there's a weird cliche around adding the phrase "with no disrespect to…" (Pierre-Emile Hojbjerg once said,"with no disrespect to egg...") but come on. Some games are bigger than others. They just are.
It's why the people running Fulham FC are seemingly comfortable with charging £160 for some tickets for the visit of Manchester United in November. That's a disgrace by the way.
Time and day matter too. Early kick offs on Saturday are shit. It's just never as good. Two o'clock on a Sunday isn't much cop either. How many famous atmospheres have there been in that slot?
Then there's the game itself and how it pans out. Aston Villa – in that 2pm Sunday slot – was a stroll. Liverpool are 2-0 up in 22 minutes. It's 3-0 by 55. The Reds dominated the ball. No sweat. Well, plenty of sweat, as it was boiling hot on The Kop that day.
Bournemouth? The dodgy red card for Alexis Mac Allister helped. It raised them and it raised us. Again, I didn't walk away thinking it was a bad atmosphere.
It was similar on Sunday. Shit time. "Only West Ham." Sorry, lads. Liverpool comfortably controlled the second half, kept the ball, patiently looked for gaps and bided their time. It wasn't 100mph edge-of-the-seat stuff and it's simply not going to spark the rabid response we've seen when The Reds are up against it in European competition.
I can remember being on the standing Kop with some school mates in 1991 when Liverpool were playing Wimbledon in the league. It wasn't a classic game. The Reds didn't play well. It was cold. And the atmosphere definitely wasn't "electric" – so much so that I can remember clocking one lad (let's call him Matty because that was his name) becoming distracted by the slow trickle of piss down the Kop steps. Ahhh, great days.
Moments can lift us too. The Barcelona comeback is never going to be far from the lips of anyone who was there, but the tone was set that night by that tackle from Fabinho on Luis Suarez (and the unjust yellow card that followed). He even admitted himself that it was one of his favourite moments in a red shirt.
Sometimes we lift them. Sometimes they lift us. And there's nothing wrong with that.
Já que hoje é aniversário do brabo, deixo pra vocês essa maravilha de tackle do Fabinho em cima do Suarez.

De longe o melhor volante do mundo e agora o segundo melhor zagueiro também! ♥️🤪 @_fabinhotavares pic.twitter.com/TZAUdepeGo

— Liverpool FC Brasil (@livfcbr) October 23, 2020
Anything else? Well this is where it always gets divisive and ultimately counterproductive. Fan on fan finger-pointing about age, locality, willingness to sing, who should and shouldn't get tickets, where they sit and stand and understanding of culture leads precisely nowhere in this circular debate.
If you go to a match, particularly on The Kop, should you be prepared to get behind the team vocally and vociferously? Should you sing, shout, appeal for everything, make it hostile for the opposition and back the team? Absolutely.
That's The Kop tradition. That's why we stand up all game. It's what you go there for because let's be honest it's not for the view.
Has the game changed beyond all recognition in terms of globalisation, its reach, demand for tickets, price of tickets, touts, and how clubs make their money in the past few decades? Yep.
When the piss was dripping down The Kop in 1991, I got the bus from Huyton about 12 o'clock and paid in at Anfield on the gate. I was one of 35,030 there that day.
Comparing those times to these times is comparing apples with oranges.
I could stand with my mates then. We could congregate and egg (no disrespect to egg) each other on to sing and start songs. Older fellas would pipe up and police us if we were breaking the unwritten rules of the famous terrace. And so we got our education.
We live in different times now. The Kop is physically different. Efforts have previously been made to carry the culture of then into the reality of now. And I applaud them.
But locals blaming out of towners and out of towners blaming locals, where is that getting us exactly? It's been going for decades. Some of it, both ways around, is just downright snide.
Chris there, above, wants something done. Well, mate, we've had Reclaim The Kop. There was an opportunity for like minded season-ticket holders to come together in one area of the Kop stand off the back of it.
The words to songs were shared. Guidance was even issued regarding behaviour unlikely to lead to you making friends and influencing people in Liverpool.
We have rail seats in The Kop and Anfield Road ends after a long fight to achieve that. We've got The Spion Kop group who do great work to keep the culture of flags and banners alive. What else do people really think can be done?
Local kids in the ground? There's an initiative around that already and guess what? Not everyone agrees with it.
The conclusion I reach these days is that none of this is easy and there is no panacea to the perceived problem. Anfield will soon hold 61,000 people. It still won't be enough to satisfy demand for tickets.
The member system, the online scrap for matches, touts, corporates, bucket listers, tourists, NFC, the difficulty of sitting near your mates and the barriers to distributing a ticket aren't going away anytime soon either.
From an idealistic perspective, it's a bit fucked really.
Absolutely love this…

The Kop at Anfield singing 'She Loves You' in 1964 😍 pic.twitter.com/tSiDOxAxHR

— The Football History Boys (@TFHBs) September 18, 2023
So for me, Clive, expectation now has to meet reality. The Kop isn't even the biggest end of the ground at Anfield anymore. It's not the place that plummy-voiced Panorama fella described and it's not full of people swaying to The Beatles.
A spirit still remains though. We've seen it. We've felt it. And it will ebb and flow like it always has.
Some of Liverpool's best atmospheres have been in my lifetime. Some of Liverpool's best atmospheres were achieved under this very manager.
I've taken my son onto The Kop and I've seen his face. He felt the force. He heard the din. And he wanted to go again and be part of it once more.
This football is not that football. This life as a football supporter is not that one. But it's not quite dead yet, is it? This old arse is still singing and shouting. What's stopping you?