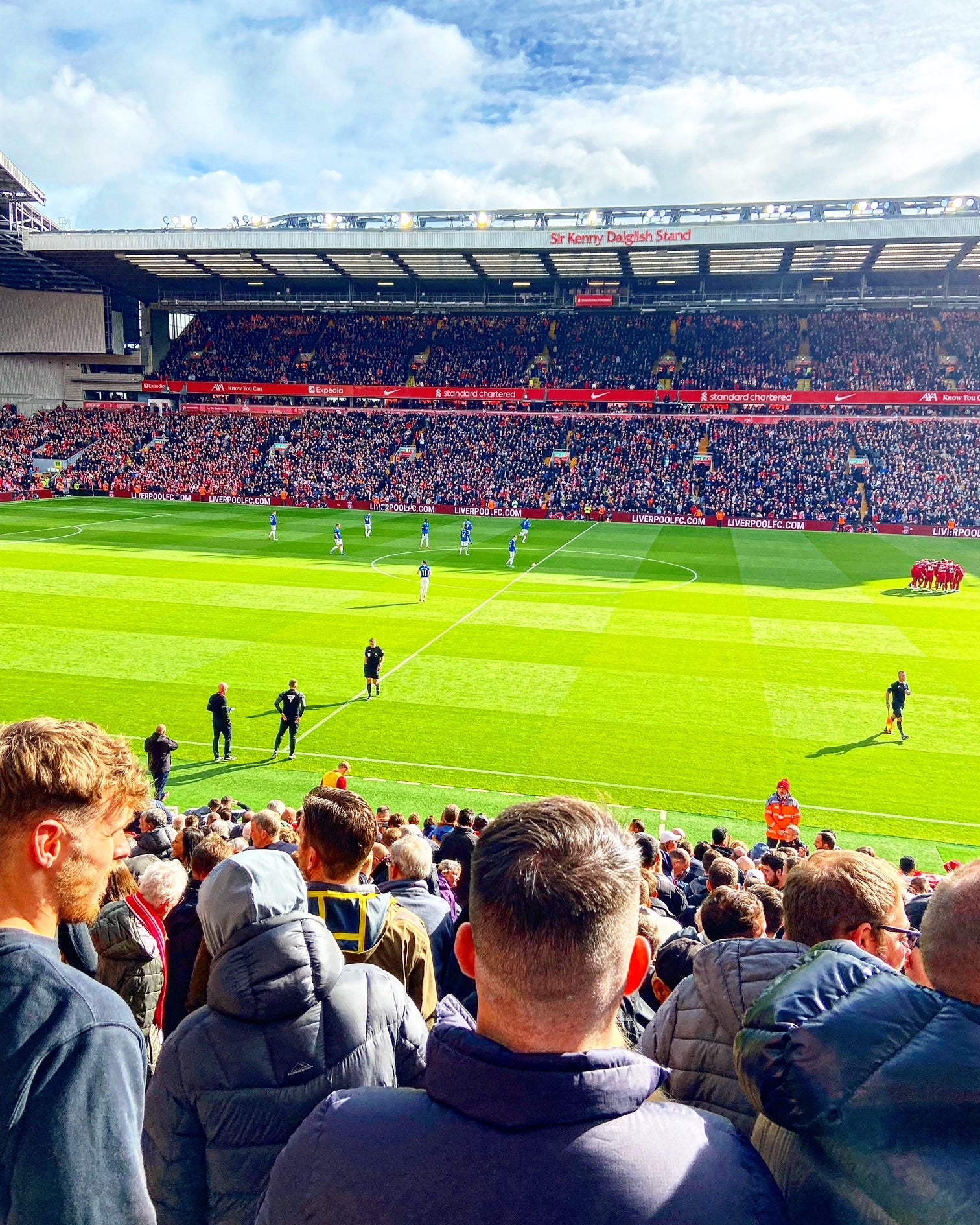 Liverpool v Everton: We Walk The Same Streets But We See Different Things
By Gareth Roberts
IT was my lad's first Derby on Saturday. It made me think. We walk the same streets but we see different things.
I still remember one of the first I went to, specifically the stunned face of an Evertonian we knew who had scaled a crush barrier in the Kop to flick the Vs at us as the Derby kicked off at Anfield in 1991.
I watched that cocky teenage face quickly turn ashen as David Burrows put The Reds ahead after 49 seconds. It was the Kop end too. The taunting Toffee fell into a mass of celebrating Liverpudlians and a side managed by Graeme Souness went on to beat Howard Kendall's Everton 3-1.
Our Bluenose mate was nowhere to be seen.
Thirty two years on, it was my son's turn to experience the sights and sounds of a Merseyside Derby -- and leave the ground with the infamous bragging rights in tow.
It wasn't a classic by any stretch. I've been fortunate to have seen dozens of better games, including against this very opposition. We might still sing about Ian Rush scoring four in 1982 but we beat them 4-1 at Goodison in 2021 and 5-2 at Anfield in 2019 ("The ball, the ball, they hardly touched the ball. We played the shite on a Wednesday night and they hardly touched the ball.") 
This wasn't that, or anything close. But I'm cracking on now, so I see it in a certain way. For my son, though, it's in the top three of matches he's seen so far. And why not at his age or his experience as a fledgling match-goer? Once upon a time I thought a Derby win under Souness was a good one. And let's be honest, there are no bad wins against them.
Like I did, my lad has mates at school who support Everton. They give him stick, he gives them stick. How it should be. So if he's enjoyed that feeling that tells you this really does mean more then good for him. And I'll take some credit too for doing something right too, ta very much.
When Liverpool and Everton meet it should be a level above the usual. Throwing bottles though (whoever was responsible)...nah. Pre-match, it was a bit of a weird experience to be held back by a line of police by the Stanley Park exit to Anfield Road when we're playing a team from the same city, but here we are.
In the ground, the smattering of away-end oddballs doing the "wall-pushing" gesture were also in evidence. Why? It doesn't even make sense, lads, and merely shows your ignorance.
Away from the extreme edges, to me, it's become pretty routine to see us beat Everton. Enjoyable still. Relief. But routine.
For my lad, it was the first one in the flesh, so he'll remember it and no doubt enjoy a gloat or two.
I don't know how those school conversations go now because Liverpool are so clearly the better side in 2023.
4 - Liverpool have kept four consecutive clean sheets against Everton in the Premier League, their longest run without conceding against them in league competition since April 1976 (a run of nine in a row). Territory. pic.twitter.com/u4fyBMxcOW

— OptaJoe (@OptaJoe) October 21, 2023
During my school days Everton won the league and Liverpool twice beat them in an FA Cup final. Their last success wasn't ancient history.
Then, I can remember Evertonians claiming an upper hand because they had a scoreboard and we didn't. Everything was compared and contrasted. We were all desperate for our club to be the best.
It's 28 years since their last trophy now and they've not had too much joy in Merseyside Derbies to shout about either. Only one win in the last 26, and that one minus supporters in the ground.
When Ashley Young (rightly) was sent off it was the 29th red card in the Derby. Twenty have been for Everton. None of this can be fun. And no Blue wants a pat on the head from me about it.
But it brings it back to the opening line: We walk the same streets but see different things.
I didn't see much from Everton to be concerned about. I was genuinely surprised to see some of the takes post match; from some of their fans and from some of their players.
Proud of our players today. 🔵

12 v 10 for 40 minutes 👏 pic.twitter.com/xnICOWWfNk

— EFC DAILY (@EFCdaily_) October 21, 2023
Jordan Pickford not being the sharpest knife in the drawer is hardly breaking news but the "no shock" and "I think the whole world will know" stuff about the referee?
Sound, Ibrahima Konaté is fortunate to not get a second yellow. But what else was so contentious it warrants hinting at conspiracy?
It was a nailed-on penalty and a clear red card. Young is 38 and has played 431 games in the Premier League. He risked a second yellow when he kicked the ball away after his first booking. He got one for a rash and unnecessary tackle on Luis Diaz.
As you've no doubt seen already it was the first time an opposing player was sent off for two yellow cards in a Premier League match against Liverpool since Sadio Mane in 2015. A staggering statistic.
"No shock…" Yeah everything has gone our way, hasn't it?
Did Pickford miss the Tottenham game? Maybe he was busy punching himself in the face.
I get that the Konaté decision was lucky for Liverpool, unquestionably.

But the commentary team calling it a 'game changer' when it had been pretty much all Liverpool anyway? Nah. pic.twitter.com/Sr0ZCRkMre

— Andrew Beasley (@BassTunedToRed) October 21, 2023
Some Blues were also active on social media post-match to argue about the game itself.
Apparently it was a game changer from the referee to send off Young and not Konate.
Which kind of ignores every available stat about the game. Aside from Dominic Calvert-Lewin's header straight at Alisson after 35 seconds, what was there to suggest a goal from Everton was on its way? When was there ever any momentum or real threat?
They defended valiantly but The Blues also made just 112 accurate passes in the whole game, the fewest by a team in a Premier League match this season.
I saw Liverpool dominate the game and ultimately get what they deserved without being at their best but was called a "prick" by some Everton fans for suggesting so on Twitter.
"We walk the same streets but we see different things." And I, for one, am glad I'm on the red side of the divide...