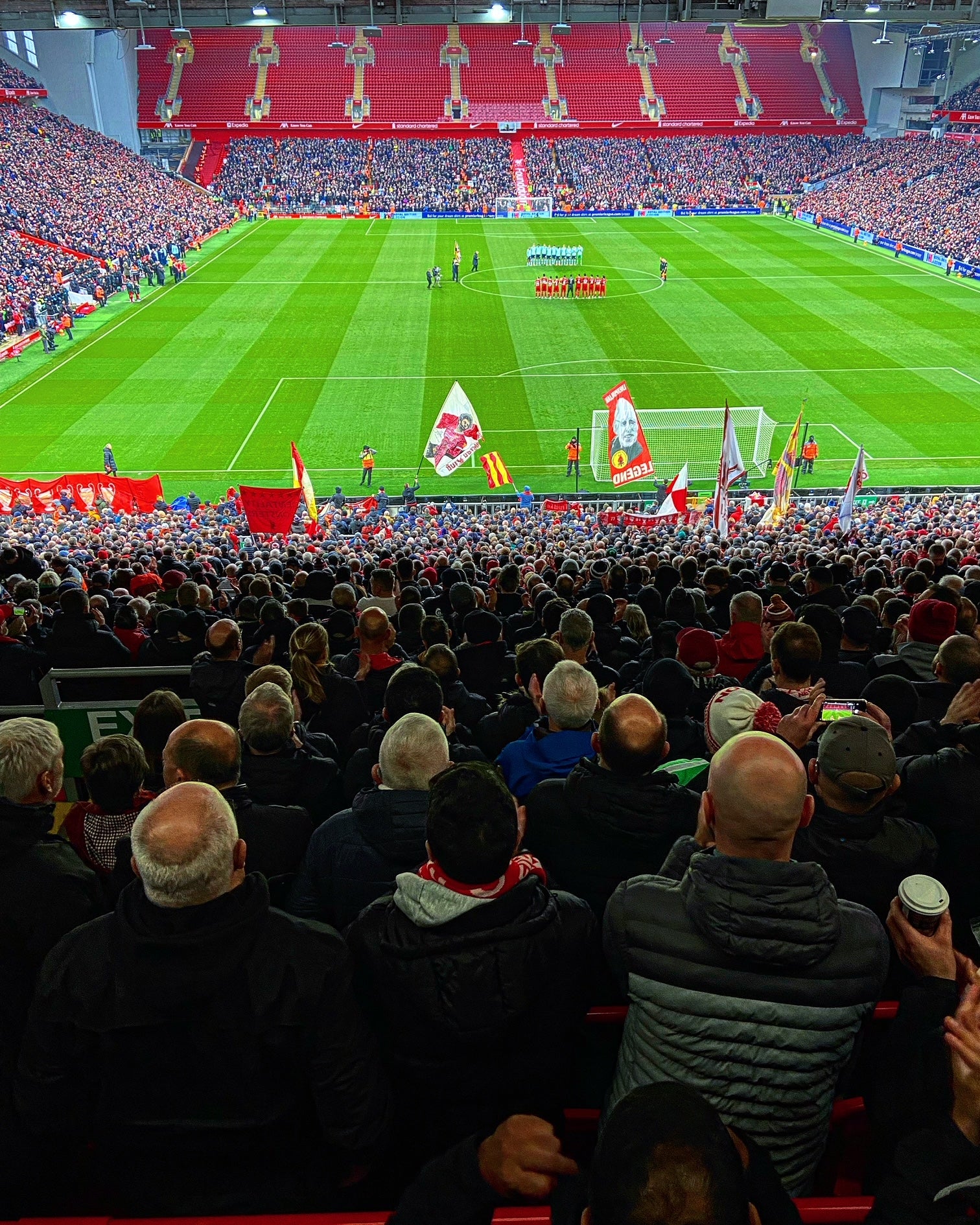 Liverpool: A Golden Time For Going To Anfield
By Gareth Roberts
A POINT off the top of the table despite the Spurs diddle (you move on) and a huge summer of flux playing staff-wise – it's not bad, is it?
In fact, it's so much more than that.
But football fan culture tells us "not to get carried away", "it's a marathon not a sprint" and [insert cliche here].
One Manc tweeted me this week to tell me I was in "dreamland" if I thought Liverpool could challenge Manchester City this season. Dreamland it is then. Sounds good.
Worrying what others think if you enjoy your own football team or have a bit of hope in your heart has never been high on my list of priorities. Who's arsed what they think?
But I do wonder if it is part of something gloomy that we are exposed to week in, week out that can result in appreciation being tempered for what we are watching here.
The never-ending news cycle always pitches a club in crisis, a manager under pressure, a team that has lost its mojo. And I can't help but think that feeds negativity – a clamour to point out what's wrong, rather than enjoy what's right. A desperation for new and shiny rather than what is already here.
Because, after all, we don't want that crisis club to be us, do we?
And then there is the long shadow of Manchester City, Liverpool's next opponent, a club that has just posted a Premier League record revenue for the 2022-23 financial year.
It's a remarkable business model, isn't it? Revenues of £712.8million, the first English club to break the £400 million barrier in wages for a single season, five title wins out of the last six seasons, oh, and 115 charges for rule breaches…(something discussed in the show below).
It's easy to fall into the hellish vortex of thoughts about a sport lost to money but come let us adore them. Liverpool are challenging again.
Sunday's game had the air of a Laurel and Hardy film about it. The Reds were depleted by injury and suspension, Brentford had won three on the spin, including at Stamford Bridge, and were in form after a winless run of eight.
Liverpool went into battle on the back of snatching a draw at Luton and defeat in Toulouse. Was a plank about to fly up and smack us in the face? Not a bit of it.
Another Anfield win, a team that had only lost an away game in the Premier League by more than a single goal once since the start of November 2022 dispatched 3-0 in fairly comfortable fashion.
"Another Anfield win" though. Are we taking all this for granted a bit?
The last time Liverpool lost in L4 in any competition was to Real Madrid in February. Following that 5-2 defeat, The Reds went eight unbeaten at home last season (W6 D2). It's nine Anfield wins on the spin this season, with each of those by two goals or more – the first time that has happened since 1980.
Seventeen unbeaten then. Not bad? In the league, it's not just 'not bad', it's phenomenal. Are we treating it as such? Is it said enough?
In the season when Brendan Rodgers was succeeded by Jurgen Klopp, Liverpool lost 3-0 at home to West Ham – the first time the Londoners had managed to win at Anfield since 1963.
Rodgers said after that game: "I think it will be a really difficult league to get your home wins in."
Defeat to the Hammers was Liverpool's 11th at home in the league in a little over three years under Rodgers.
Klopp then experienced his first defeat at Anfield as Liverpool boss when The Reds lost 2-1 to Crystal Palace.
He famously pointed at supporters who left early that day eight years ago this month: "After the goal on 82 minutes, with 12 minutes to go, I saw many people leaving the stadium. I felt pretty alone at this moment. We decide when it is over. Between 82 and 94 [minutes] you can make eight goals if you like."
In Rodgers' final full season as Liverpool manager, The Reds lost to Aston Villa, Chelsea, Manchester United and Crystal Palace at home in the league.
Real Madrid also triumphed with ease at Liverpool in the group stages of the Champions League during that campaign.
Klopp himself has said: "To be successful you have to have a fortress at home." And he has achieved just that.
We can and should discount the six home defeats in a row in the 2020-21 season when Burnley, Brighton, Manchester City, Everton, Chelsea and Fulham came, saw and conquered an empty ground due to the Covid-19 pandemic.
Instead, we should hail and hero worship the period that preceded it when after another "fucking loss" to Crystal Palace in April 2017, Liverpool went unbeaten on home turf in the Premier League for a staggering 68 games (55 wins, 13 draws).
Jürgen Klopp: "I can't forget this fucking loss to Crystal Palace." pic.twitter.com/b6qpnVvdlS

— Football Tweets (@FutballTweets) December 2, 2015
Again for context, and again to underline the golden times we live in, the only thing close in recent-ish times at our club was Rafael Benitez's Liverpool, who reached 30 league games unbeaten at Anfield between December 2007 and August 2009.
Klopp's Liverpool have been at it again since that incredible run. After that defeat to Fulham in 2021 during that bizarre Twilight Zone period of life, Liverpool have only been beaten ONCE in the league at Anfield in 48 league games (W37 D10).
That was a 2-1 reverse against Leeds last season – the only Premier League match Liverpool have lost in front of supporters since April 2017.
Read that last line again. Do not adjust your laptop or mobile phone. It's absolutely incredible.
This is the stuff we associate with Bill Shankly and Bob Paisley. Yet it's happening now, today, this year, this week, under this manager.
So, as my old mucker Dave Segar pointed out in his piece on all this (I'd already started mine, sorry Dave): "If you only include games in which fans have been present at Anfield, Liverpool's record since that loss to Crystal Palace… is played 103, won 82, drawn 20, lost one."
And all this with a bigger and better Anfield to come, with the capacity to be boosted by 11,000 when work on the Anfield Road is finally completed in 2024.
Remember the noise when the Main Stand first opened for the game against Leicester? We've got all that to come.
It's not bad, is it? And it's a whole lot more too. Drink it in and enjoy it.