Rushie smashing the camera? Gary Mac from 40 yards? Fowler twatting David Unsworth? McMahon kicking Peter Reid ten yards into the air? It's derby day and we're getting nostalgic – here's our top five wins over the blueshite:
1 – Everton 0-5 Liverpool, 1982
"And we played the Toffees for a laugh and left them feeling blue, 5-0!". Rushie turned on the style with four goals, still the only Liverpool player to hit a hat-trick at Woodison, helping us record the biggest derby win in 17 years. Lawro bagged the other and if it weren't for Southall being in inspired form, it could have been even uglier. Rushie says to this day that Bluenoses still approach him and say ifithadnerbeenforKeeleybeingsentoff, it would have been a different result. His token reply is 'Yeah, it might have been six or seven.'
2 – Everton 2-3 Liverpool, 2001
For sheer ecstasy, few can rival the moment that Gary Mac's 40-yard free-kick nestle into the corner, three minutes into stoppage time. To spot the keeper out of position was one thing, to execute it was a different matter altogether. Bedlam. It was the third time we'd taken the lead after an early Heskey strike and an incredible counter-attack goal finished by the onrushing Markus Babbel after great work from Didi and Fowler. Looking back now, it was an astonishing game in a remarkable season and still provides the old goose bumps. The Evertonian despair was just delightful.
3 – Liverpool 3-1 Everton, 1986
Toffee-hearts were broken in the first all-Liverpool FA Cup Final; must have been nearly 100,000 chanting Merseyside, Merseyside, Merseyside as the teams marched out – hairs on the back of your neck time. Nerves aplenty as we chased our first double and what a way to get it. They'd started the better and Lineker poached in typical off-the-shoulder fashion but whilst Rushie will take the plaudits for his brace – the second of which famously smashing the in-goal camera – I always remember Big Jan turning the game for us in that second half, completely dictating the play. "On the glorious tenth of May as we walked down Wembley Way, we're full of laughter joy and glee, it's Everton one and Liverpool three!"
4 – Liverpool 3-2 Everton AET, 1989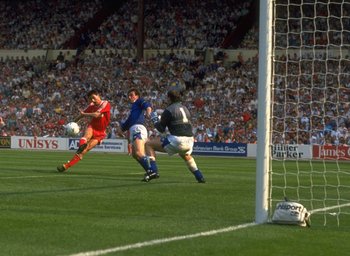 Sandwiched in between deflation on the pitch and utter devastation and trauma off it was the most emotional FA Cup Final ever held and just five weeks after that dark day in Sheffield, we simply had to lift that cup against a good Everton side who pushed us all the way. 'You'll Never Walk Alone' and 'Abide With Me' was sung by Gerry Marsden on the pitch, as 80,000 scousers sang and swayed. They say it was a friendly final due to the city coming together post-Hillsborough but of course, both clubs wanted this as much as ever. And despite the best efforts of the rampaging McCall, Rushie won us the cup in extra-time.
5 – Liverpool 3-2 Everton, 1999
3-2 seems to be a recurring theme. The blueshite had been on a good run in the derbies and after taking the lead in the first minute, it spelt trouble. But God stoked it up good and proper, turning the game for us and leaving the everlasting memory of frothy-mouthed blues as Robbie 'snorted' the goal-line in front of them having equalised, responding brilliantly to chants of 'smackhead'. He notched the winner with Patrik Berger getting the other, to put an end to Everton's game-raising antics of recent years.